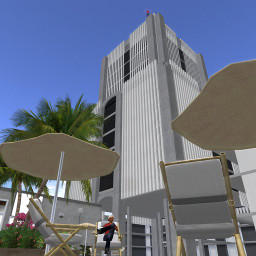 GerGrid Metaverse - an opensim virtual reality game
GerGrid is a 3D online multi-user virtual world enables its users to interact with each other through 3D and where you can build your own world. Create now your free avatar to dive into the world of GerGrid and build your own home in a great opensim based virtual world.

Hypergrid enabled now. To teleport from other grid: Open the World Map, and in the search field enter the Hypergrid address http://gergrid.de:8002 click enter or Search and then click Teleport.

Bitcoins for deposit to the credit account are accepted now too.
Within this world are currently running a few private projects which are shown here with a small gallery. Anyone interested himself to realize their own project here in GerGrid and present his images here public can do so gladly. Simply the images (snapshots), each with a small piece of text or a story submit by mail to: info@gergrid.de
Here you can navigate to the projects in GerGrid:
Here are a list of popular places you can visit...
Popular places:
Traffic:
88